Wow!
The past several days have gone by so quickly. I am always amazed at how much living can be packed into such a short period of time! I have had friends and relations visiting for a long weekend. They arrived while I was still at work on Friday and I stayed up way too late that evening. I still had to work on Saturday and came home as quick as I could so that I could make the most of each and every moment with my dearest ones.
On Sunday we had the annual big cook out in our backyard. I lost count after 51. Folks were coming and going and returning again. Thank goodness I have a field folks can park in!
Oh my, was it ever good! There was hamburgers, hot dogs, sausages, macaroni salad, potato salad, chips and dip of every sort, chicken salad, shrimp salad, sandwiches of the hard roll deli variety, sweet tea, and let's not forget the desserts.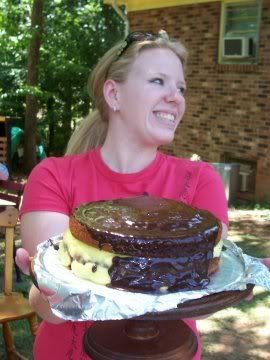 We had iced brownies, boston cream cake, a few pies (I didn't even get to see them ~ that's how fast they went ~ and ~ some watermelon kabobs.
Why does food always taste sooooooo good when you eat outside and surrounded by people who are
eating and talking with their mouths full at the same time? I love to mingle with my family and friends at these gatherings. It doesn't seem to matter that most of us see each other all the time. There is something about a PARTY that
is just good old plain fun! We played cards, of course and a game fairly new to me that was introduced to the rest of
the clan that was gathered. It is called Chicken Foot. It is played with dominoes. What a great game and ice breaker!
By dark thirty, we were all bone tired, our tongues give out from all the talking, our fingers tired from playing cards, guitars, banjos, mandolins and even drums. We k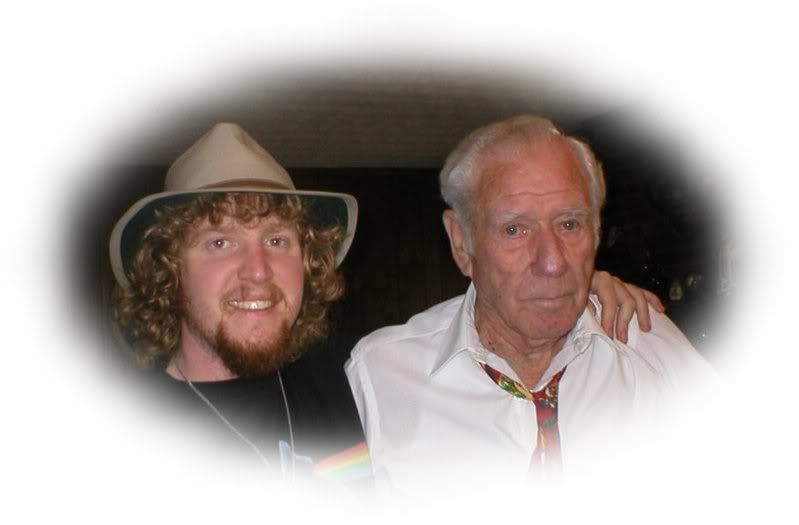 now how to make a racket. Even my Daddy played the git-fiddle a spell and sang to my Momma. He sang, "Beautiful Beautiful Brown Eyes, I'll never love Blue Eyes again." He hasn't lost his touch. He can still play and sing San Antonio Rose. I joined him on the mandolin and we played a duet for the first time in ages ~ Chinese Breakdown.
For several hours I thought of nothing except the people present. For those hours, no one spoke of their problems. For those hours we all lived in that party world where health is perfect, jobs are stress free, families are not dysfunctional. It was a Lake Woebegone time. The only thing missing was you. Wish you were here.
Watermelon Kabobs
watermelon, seeded and cut into cubes
sharp cheese, cubes
green seedless grapes
Cube fruit and cheese, spear them onto a bamboo skewer and chill until ready. These are yummy and you don't even need a party to enjoy these!