Ye gadzooks it is now officially less than a week away! I should know, my birthday was yesterday.
For those interested it was a wonderful day full of phone calls and friends - I now believe I have heard every version of happy birthday that there can be. Thanks to all my dear friends for their love and friendship.
Last evening, Luscious Larry carried me out to dinner - our favorite Mexican Restaurant where the food is always delish. I decided to try something new and gosh was I glad. I ordered the shrimp with zucchini squash on a bed of rice and accented with their wonderful cheese. I can't believe I ate the whole thing. Well, I did share a bite of shrimp or two with Luscious. Who could resist those big puppy dog eyes staring at my plate. I enjoyed a taste of his enchiladas as well. He also gifted me with a wonderful book by
Linda Causee "365 Foundation Quilt Blocks"
I went to my good bud's Terri of
Primcreek
blog and saw this wonderful quiz. I took it and wow! I am officially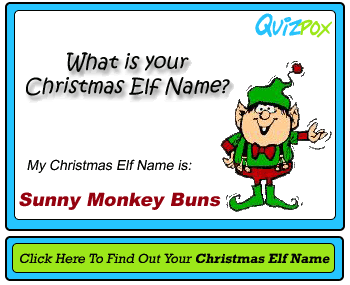 More Fun Quizzes at QuizPox.com
I laughed so hard at the name but I would have spelled it like Inspector Clouseau would say "Minkey". I think that my hubs shall have a new nickname for me this season.
Thanks Terri for having this on your blog, along with all other wonderful sorts of ideas!!!